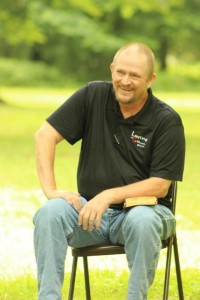 Brother Ronnie Tullos was born in Central Louisiana in 1959.   Ronnie married the love of his life, Susan(Goff)Tullos, in 1978.  Their first two children, Sean and Luke were born in Louisiana and Sarah was born in Memphis, Tennessee.  Sean went home to be with the Lord on December 29th, 2003 at the age of 23.
After a turbulent young life, he was born again in 1981.  Saved from a life of drugs and alcohol, Ronnie had a burden for those who were struggling with the same things.  After several years of working with a ministry called Christians Sharing Christ out of Ball, La., God called Ronnie to step out on faith and enter into full time ministry.
In 1987, Ronnie and Susan moved their family to Memphis, Tennessee where he could attend Mid-America Baptist Theological Seminary.  During his time there he started the Street Ministry Practical Mission that continues to go out on the streets of Memphis.
In 1991, with God's leading, Ronnie incorporated the Ronnie Tullos Evangelistic Association.  The RTEA, Ronnie and the Board of Directors, felt led of God to have a place in the heart of Memphis, where people like Ronnie used to be could come and experience the love of Jesus.  In 1993, with Gods provision, the Inner-City Outreach Center was opened debt free.  Since that time, Miracle Baptist Church has been started and planted through the center. Before that he started New Song Baptist Church which was started from a Bible Study he taught in 1987 at the Claiborne Homes Housing Project.  With two Churches planted and another one underway, Brother Ronnie has shown not only his love for souls, but also for follow-up.
Since 1987 the RTEA has seen over 54,500 people ask Jesus to save them.  All glory goes to Jesus Christ!  Combining Evangelistic trips overseas and at home, with revivals, crusades and street ministry, God has evidenced a call to evangelism in Ronnie's life.  After 36 years of trying to be faithful to the call of "Go ye into all the world and preach the gospel to every creature," Brother Ronnie continues to preach, teach, mentor, and pastor as God gives him grace and strength.